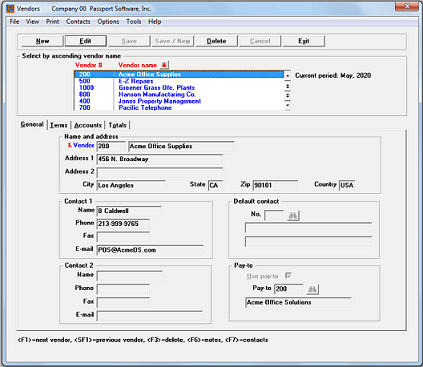 ---
---
Passport Software's Accounts Payable Module
Hello again,
This post is for small to mid-sized companies who may be vetting an accounting software system.
Here is a customer review of our accounting software's AP module sourced from Capterra.com:
"Very user friendly, only purchase modules you want. Don't have to buy an entire package with stuff you won't use, but simple to add on as desired…
Many levels of reporting for accounts payable from original invoice entry to final check registers….in total or by individual vendors.
Once you get a handle on one module, the others are even quicker."
AP Software
Money owed to vendors for supplies, equipment or services is tracked in Accounts Payable. To help determine your cash flow and profitability, AP will calculate the total sum owed to vendors.
AP tracks payments and expenditures, and you can reconcile processed work by reviewing the system reports.
Comprehensive reporting helps with analysis of accounts and monitoring the payment process.
Benefits
Passport Software's Accounts Payable program can help you maintain your good credit rating by managing your cash wisely.
Keep accurate information on vendor, supplier and costs by tracking payment due dates, available discounts, and money owed to creditors.
Passport Software's Accounts Payable software for small business and mid-sized companies helps you accomplish the following and so much more:
·         Safeguard your profits: With accurate information
·         See vendor balances at a glance: Comprehensive display
·         On-time accurate payments: Improve credit
·         Finish work faster: Quickly generate vendor invoices
The AP module integrates with our other accounting software modules:  General Ledger, Accounts Receivable, Check Reconciliation, and Payroll.
Call 800-969-7900 or Contact Us – We are here to help.
---