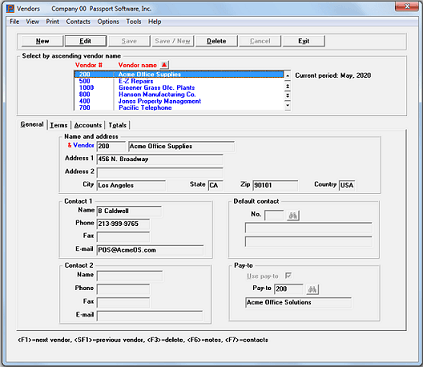 ---
---
PBS™ Version 12.08
Hello again,
Passport Software's latest version of Passport Business Solutions™ (PBS™) delivers both new technology and feature enhancements to help better manage your business and save time and money.
New Technology
PBS eDocs is a new fully integrated document management solution, a brand-new technology introduced with PBS SQL or CashPoint Version 12.08.
This technology saves time, effort, and gives staff much improved access to important documents electronically, without the hassle of copying and passing paper documents around from person to person, hoping that they will arrive where they need to be.
PBS eDocs is a new fully integrated document management solution for PBS SQL or CashPoint 12.08. The initial release of 12.08 includes:
• PBS Accounts Payable integrations for: Vendors, Vouchers (payables Enter), Open Items, and View Vendor Invoices. With a couple of clicks, it allows the scanning and saving of documents associated with a purchase.
• PBS Accounts Receivable integrations for: AR Customers/Enter/Multi payment receipts, Invoices/Enter, Recurring bills/Enter, Miscellaneous charges /Enter, Recurring sales /Enter and View /Customer open items/Invoices /Invoice history /Recurring bills. Additional module integrations will be released as completed.
The major benefits of document management include the following:
• Eliminates the filing and retrieval time of paper documents, which has been estimated to save about ten percent of a clerk's time.
• Improves remote worker productivity due to availability of document images directly from the database.
• Faster circulation of electronic documents for review, approval or other actions, without lost or misplaced documents, and the problems that can create. An eDocument attachment may be emailed to one or more people, avoiding making paper copies and physically sending them to local or remote recipients.
• Reduces office space used for file cabinets.
PBS eDocs training webinars and recordings will be available to help you better address your document management needs.
PBS Reports Plus™
PBS Reports Plus™ is a completely new reporting option offering both Excel output and two graphical report designs. The current report options are still available and work as they always have. But now you may choose to have the reports sent to Excel and they will open up in a fully functional rows-and-columns spreadsheet.
Or you may choose the new graphical report design, with or without printing grid lines to ease readability. System Manager, AP, PR, GL, ACA (Affordable Care Act) and CR (Check Reconciliation) packages have all been included in the 12.08 release. Other packages will follow as updates to 12.08. The new report options may be selected when printing reports.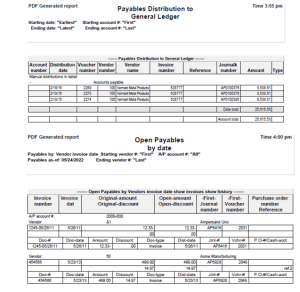 Purchase Order – A graphical user interface has been added to many of the PO programs. Additional programs will be included as an update to 12.08.
Manufacturing – A graphical user interface has been added to additional manufacturing programs including IM, Inventory Transactions, Receive/Issue Components and several reports
PBS™ 12.08 Feature Enhancements
• Separate printers may be defined for each user to allow them to choose the specific printer that they need to use.
• A personalized list of printers can be attached to a specific individual user. Separate printers may be defined for each user to allow choosing the specific printers that they need to access. This solves problems for large companies not having enough printers for all of their needs, and provides greater security. (For example, the payroll person can't accidentally send pay checks to the warehouse printer).Each individual user may have up to 12 printers defined, but most will not need that many. Individual personalized printers do not need to be set up in Company Information and can be entirely different printers, allowing an unlimited total number of printers. The limitation of a dozen printers that can be defined in Company Information for all users on the system is finally eliminated.
• A new PBS Payroll tax table import program has been added, allowing new Federal Tax Tables to be automatically imported into the Payroll Tax Table file, after closing payroll for the year.
• In PBS Payroll, an Excel spreadsheet template has been designed that may be used to prepare employee payroll hours. The data may be saved to an XML file and imported directly into the Payroll Time Enter program. Similar to the TimeClick import for time worked, this is now available for those who do not use the TimeClick software for their employee time tracking, but need to bring employee hours over to PBS Payroll.
• In PBS Manufacturing, the addition of an expiration date for lot numbers in the on-hand detail report and display, as well as the lot/serial # history report and display is now available. The item master allows you to set a shelf life for automatic calculation of the expiration date on any item that is lot controlled.
• In PBS Manufacturing, a cost threshold may be set as a percentage of the item master's cost. On an item in a PO Line the user is warned if they are exceeding this threshold.
• For customers who would like you to show their own internal Customer Item Number and Description on your Invoices to them, there is now a file to allow the entry of their item number and description for any items they buy from you, and their item number and description data may be printed on the invoice that you send them.
For more information about the benefits of updating to PBS v 12.08, call your Passport Partner. If you don't have a Partner, please call 800-969-7900 for assistance. Or, contact us – we are here to help.
---