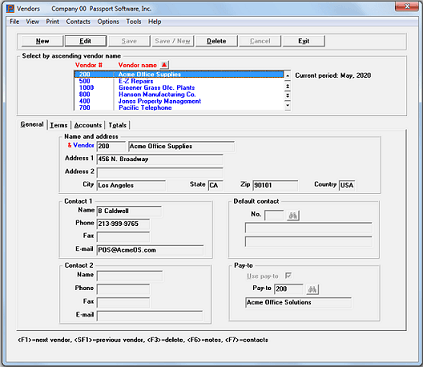 ---
---
On-Premise Accounting Software
Hello again,
This post is for small to mid-sized companies who may be vetting a new accounting system.
The following is sourced from AccountingWeb.com. We hope you find it useful:
Your Current Desktop Software
"There are various reasons why a user prefers particular software and tends to do all they can to keep the consistency of utilizing a familiar desktop program.
If you are a user that does a direct comparison between your desktop software and the most comparable online version expecting to find an exact match, you will inevitably be disappointed.
Website programming is not the same as it is for desktop software and there will always be differences in the overall appearance.
Additionally, not all functionalities can be included in a web-based version of a program so some features may be left out entirely or accessed through different menus.
These differences can often be significant to a user when their primary objective is to work as efficiently as possible without having to 'adapt' to a different interface or surrender crucial features that save time.
Performance
In comparing a cloud-hosted solution to a desktop application, many users become concerned about performance issues related to the internet.
Keep in mind, when you are working entirely in the cloud you are accessing your data and the program itself through a web browser that is relying on your internet connection to perform any and all tasks.
For many people with marginal internet, this creates an issue that can dramatically increase the amount of time needed to complete basic tasks.
Additionally, this creates a situation where the user has no access whatsoever to their financial data should the internet be down for a period of time.
Even with favorable internet speeds, a user is still subject to the performance of their hosting companies' servers.
Although reliability has dramatically improved over the past 3-5 years and some companies have a much better consistency record in avoiding downtime, there is a possibility that a user will be affected by server performance issues at some time.
As previously mentioned, when utilizing a cloud-based hosting company, if their servers are down, you are not able to work.
If you are a user that likes the look/feel of their desktop software and would prefer to keep the performance of a locally hosted program and file, you are not alone."
Passport Software
With 35 years of business and accounting experience, Passport Software provides comprehensive yet easy to use  accounting software for small and medium sized companies.
Call 800-969-7900 – Or Contact Us.  We are here to help.
---