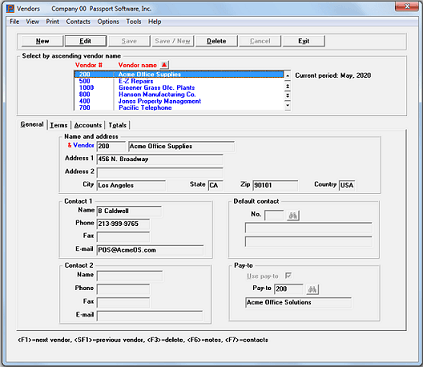 ---
---
PBS ™ Accounting for Small Business and Mid-Sized Operations
Hello again,
This post is for small to mid-sized companies who are manually tracking business information or showing other symptoms of outgrowing their entry level accounting software. We hope you find it useful.
Finding the right accounting solution is crucial for successful financial management, and accounting software is one of the most important business applications in which a company can invest.
A comprehensive system helps you manage all of your necessary financial processes such as creating invoices, tracking billing status, managing outgoing payments, keeping tabs on cash flow, utilizing in-depth reporting to analyze the financial health of your company, and more.
Passport Software
PBS Accounting is a robust accounting system that is both easy-to- use and affordable. PBS is a modular system, so you can purchase only what you need and add on as your company grows.
Automation saves you time and helps to avoid redundancy as well as helps prevent errors from manual entry.
You can create and send invoices, accept and track customer payments, and real-time reporting helps with business intelligence as well as documentation for tax reporting.
Stay up to date with vendor payments and maintain a good credit rating. Keep an eye on your cash flow to help determine your company's financial health and ensure you are aligning with your organization's budget.
Powerful and Affordable
From general ledger to payroll, PBS™ Accounting provides a powerful system for small businesses and mid-sized companies.
PBS provides comprehensive reporting so you can analyze your company's financial performance to assist you making better business decisions.
Our accounting software fits a wide range of businesses and provides back end accounting for multiple industry specific applications.
Its modular format allows you to configure a system that scales to meet your company's unique needs and manage your growth: AP, AR, GL, Bank Reconciliation, and Payroll.
Depending on the specific needs of your business, our consultants can help you determine which modules are a fit for your company.
PBS also helps you manage compliance with regulatory requirements, including the Affordable Care Act and Sales and Use Tax management and reporting.
Our accounting system is easy to use and we provide expert consulting and excellent support.
To learn more about our accounting software for small business, call 800-969-7900. Or contact us – we are here to help.
---