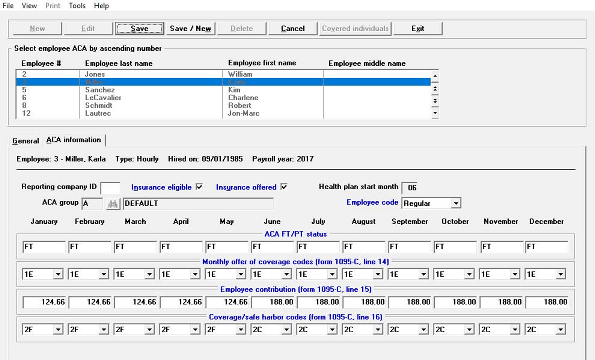 ---
---
ACA for Manufacturers – Simplify and Comply
Hello again,
This post is for small and medium-sized manufacturers that are vetting new manufacturing ERP software. We hope you find it useful.
Manufacturers face many compliance obligations, both corporate and regulatory. Corporate compliance requires adhering to applicable external regulations as well as internal policies and procedures. Regulatory compliance requires businesses to abide by state, federal, and international regulations that apply to their company.
A few examples of the myriad compliance obligations for manufacturers include: Product safety, quality standards, environmental protection standards, company finance regulations, workplace safety and employment laws.
One particularly challenging law to navigate is the Affordable Care Act. If you are a manufacturer that qualifies as an Applicable Large Employer, ACA-related data can be difficult to manage year-round, especially if you are manually tracking.
Accurate tracking of employee hours and part-time/full-time status (including full-time equivalent status) is crucial, as well as offering appropriate coverage to qualifying employees and their dependents. Coverage must also be considered affordable under IRS criteria.
In addition to monitoring full-time and full-time equivalent status for appropriate offers of coverage, worker classification must be reported accurately. Misclassifying employees as independent contractors is a common ACA reporting error that can lead to costly penalties.
Automation
Manual tracking may be error prone, especially if you employ workers with fluctuating hours. Comprehensive Affordable Care Act compliance management software streamlines data management, year-round tracking, and reporting.
ACA software can facilitate accurate tracking, monitoring employee statuses, and help prevent errors that could result in costly penalties.
Outsourcing ACA compliance management can save even more time, and you can turn over the entire process to an expert that specializes in navigating the intricacies of the Affordable Care Act.
Ensuring that your compliance administrator is updated on changing requirements is important. Tracking ACA-related data throughout the year, not just at year-end, is critical for avoiding penalties.
Passport Software
Passport Software's ACA software solution helps streamline ACA-related data year-round for accurate data tracking to help avoid costly penalties.
– Our IRS-certified ACA Software alerts when an offer of coverage will be needed, and it helps ensure that coverage falls within the affordable range based on IRS criteria.
– Track employees adding coverage, status changes, and contributions going up or down.
– Our ACA software consolidates an employee's hours across multiple companies, and handles the complex reporting rules affected by common ownership.
The Full Service option is even easier – just provide a spreadsheet with employee data and we do the rest, including filing. Our friendly experts can help you simplify the entire process to avoid costly penalties.
To learn more about how our ACA software and services can ease the burden of compliance, call 800-969-7900. Or, contact us – we are here to help.
---