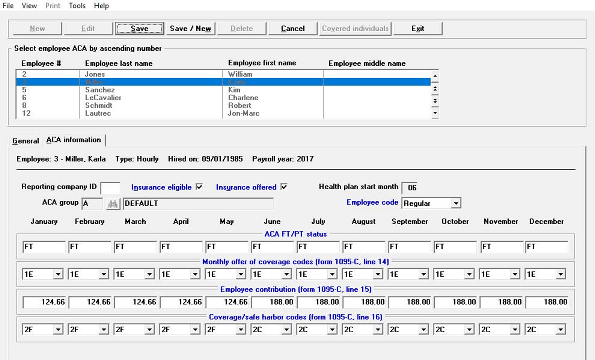 ---
---
Ease the Burden of Compliance
Hello again,
This post is for Applicable Large Employers (ALEs) required to comply with the Affordable Care Act. We hope you find it useful.
Many companies contact us in order to simplify and streamline their ACA data management. Some are tracking manually, and others are using a payroll provider for ACA compliance but still have to do most of the work themselves year-round.
Others are using a solution that is not affordable or doesn't provide great support. In any case, our ACA Software can help ease the headache of data management and compliance.
One distinguishing aspect of Passport Software's ACA Software is the easy-upload of employee data using a simple spreadsheet with only a few rows and columns.
Other software providers may require a spreadsheet with hundreds of rows and columns that is time-consuming and cumbersome to populate with the appropriate information.
Year-round Compliance
Some ACA Software providers only file forms, yet you are still responsible for tracking and maintaining compliance throughout the year.
Our software generates status reports that indicate when an offering of coverage is needed.
Tracking fluctuating employee hours and status is much more effective with software than manual tracking.
If you are overwhelmed with manual tracking, our IRS-certified ACA Software can help. And, we are IRS-approved for optional proxy submission on behalf of our software customers.
For those who want us to handle everything, our Full Service option just requires a spreadsheet with employee data – we do the rest.
Reporting
Our ACA Software solution makes filing easy, and we provide great customer support to answer any filing questions you may have.
Our software is easy to use and, upon purchasing it, we provide an orientation at no cost with optional support at a reasonable rate.
If you have questions about the Affordable Care Act in general, we are here to help. Passport Software also provides penalty relief consultation services and has helped many companies avoid or drastically reduce penalties.
CPAs
CPAs can outsource their clients' ACA compliance management and filing to Passport Software, taking advantage of our Full Service option.
Our IRS-certified ACA Software is a resource that their clients can purchase in order to track compliance management data throughout the year and perform filing individually. Or, our software customers can take advantage of our optional IRS-approved proxy submission service.
Passport Software
Admins, HR managers, and Accountants tasked with Affordable Care Act compliance and reporting often find the process tedious and cumbersome.
We are here to help ease the burden of tracking and compliance, and our optional penalty relief consultation services may help your company avoid, or drastically reduce penalties.
Learn more about our ACA Software and services. Or, contact us – we are here to help.
---