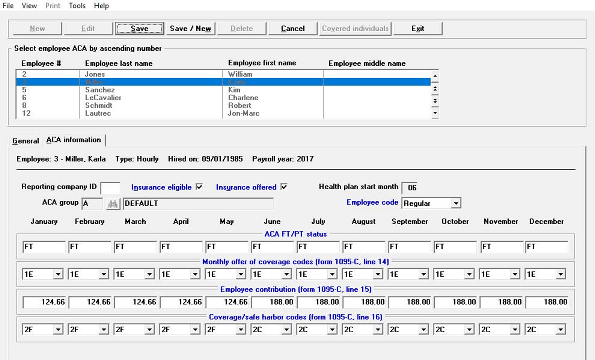 ---
---
Leverage Technology to Streamline Compliance Management
Hello again,
This post is for Applicable Large Employers (ALEs) required to comply with the Affordable Care Act. We hope you find it useful.
A few months ago, a current ACA customer found us online and reached out to us for help. After receiving an ACA penalty notification for her company's failure to file for a prior tax year, she called us to see what we could do for her.
Staffing at this company had been in flux and due to a miscommunication, the designated ACA compliance manager had left the organization without filing.
She selected our ACA Full Service option to rectify the failure to file, and then we set her up with our easy-to-use IRS-certified ACA software for ongoing compliance management and filing.
Our comprehensive ACA software provides compliance management year-round to streamline ACA-related data and reduce the risk of penalties.
We assisted her in responding to the failure to file penalty notification and helped her company, as well as many others, reduce or avoid penalties.
She was relieved to have us eliminate the stress of filing for the prior year and for our ACA software solution to help prevent any compliance errors in the future.
The Great Resignation
The Great Resignation is a phenomenon brought on by the pandemic where record numbers of employees are leaving their jobs. Hiring and retaining employees has become a challenge for some businesses.
Human Resources or administrative staff are responsible for a host of duties, and hiring and retaining talent amidst a mass exodus of employees can add more responsibility to an already long to-do list of duties.
HR professionals and administrative staff may be tasked with various compliance management duties such as complying with the Fair Labor Standards Act, Federal Civil Rights laws, Family Medical Leave Act, and more.
In addition to managing employee training, company policy oversight, and various other administrative duties, Affordable Care Act compliance management may be another important responsibility, and non-compliance can result in steep penalties.
ACA compliance management can become even more complex due to staff turnover, and it's crucial to accurately track employee hours worked, in order to know when to offer applicable coverage under the ACA.
If your company is experiencing staff turnover, it's important to accurately track employee hire and termination dates, as well as accurately monitor employee hours worked. Having comprehensive ACA software allows you to more accurately track compliance management throughout the year.
Accuracy
It can be helpful to have one designated ACA compliance manager and an effective ACA software solution to help aggregate your employee data.
Manual tracking can become a challenge when there is ongoing staff turnover, or you may find yourself doing most of the ACA-related compliance work on behalf of your payroll provider.
The silver lining of the Great Resignation is that many companies are investing in technology such as compliance management software in order to streamline their processes.
Leveraging technology can save time, and automation can ensure that you are more accurately tracking compliance management data as opposed to manual tracking.
Manual tracking and/or having several employees responsible for ACA compliance management may result in communication challenges that could make data entry more prone to error.
Aggregating your ACA-related data into an ACA software solution can also ensure that the staff tasked with tracking has an effective, centralized system for monitoring compliance. If the employee tasked with compliance leaves the company, your employee data remains intact and easy to manage by another employee.
Leveraging Technology
Technology can help streamline compliance management and help you accomplish more with less. Many companies are working with fewer employees, and automation can help simplify compliance management data tracking to reduce staff labor.
Manual tracking of ACA-related data can be time-consuming and more prone to errors compared to using comprehensive Affordable Care Act management software.  Your time is valuable and manually sorting through employee records can lead to inefficient or haphazard tracking resulting in non-compliance penalties.
Leveraging effective technology sooner rather than later can make employee data tracking more efficient and help to streamline the entire Affordable Care Act compliance management process.
Starting with the 2021 tax year reporting, Good Faith Transition Relief has ended. Good Faith Transition Relief waived ACA penalties when the employer could provide legitimate reasons for missing a reporting requirement by the mandated deadlines.
Now, unless filing errors are due to employees submitting incorrect information, filing inaccurate or incomplete forms could lead to penalties.
By taking a look at your ACA compliance process you can assess if your procedure is effective, affordable, and provides comprehensive management throughout the year. If you are doing all the work for your payroll solution or tracking manually and using forms-only software, comprehensive ACA software can help simplify the process.
The effects of current staff shortages can be mitigated by increasing efficiency on time-consuming processes via automation. Time spent on repetitive manual entry can be greatly reduced by automating data management.
Passport Software's ACA Software
Our ACA software is easy to use, and we provide training and support so that staff at any level can use the software to manage ACA compliance data.
Compared with manual tracking, automation can streamline the process and help reduce errors that could result in costly penalties.
During a time of employee turnover and staff shortages, leveraging technology to streamline and improve efficiency can help you accomplish more with less. More productivity, more efficiency, and fewer errors.
Eliminating time-consuming manual tracking with effective ACA software can help you improve your workflow and better ensure data accuracy for compliance. Having your ACA-related data aggregated in one silo can help ensure a smooth transition if another employee must take over ACA compliance management for your company.
Learn more about how Passport Software's ACA software and services. Or contact us – we are here to help.
---