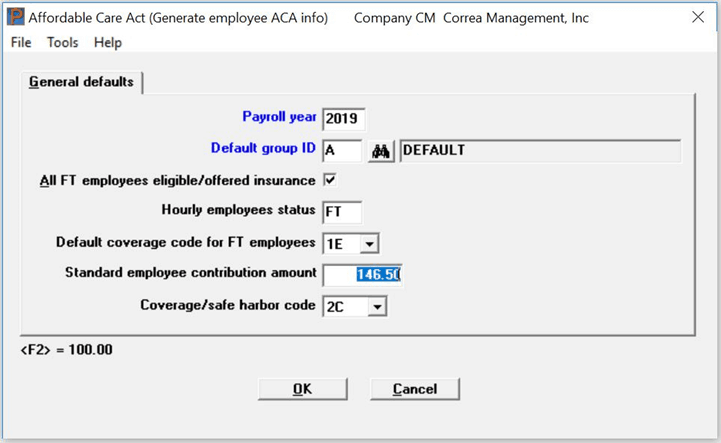 ---
---
ACA Software and Services Help With the Challenges of Compliance
Hello again,
This post is for manufacturers that are required to comply with the Affordable Care Act. We hope you find it useful.
ACA compliance can be challenging, and managing ACA-related data year-round is crucial for maintaining compliance. Manufacturers who are relying on manual data tracking may face challenges in complying with ACA requirements.
Due to manual tracking, some manufacturers may have an inconsistent procedure to monitor employee hours. Also, their number of full-time employees may fluctuate throughout the year due to the need to add or reduce staff.
Some shops employ contract workers, temporary staff, or seasonal workers over the course of a year, and the hire/rehire dates must be accurately tracked. Shift worker hours need to be tracked as well.
Prior to the Affordable Care Act, there was no need to track employee hours for anything other than payroll. Now, accurate employee ACA-related data management is needed throughout the year in order to make and track appropriate offers of coverage.
Offers of Coverage
Under the Affordable Care Act's employer shared responsibility provisions, ALEs must either offer minimum essential coverage that is "affordable" and that provides "minimum value" (under IRS criteria) to their full-time employees (and their dependents), or potentially pay steep fines to the IRS.
If your system for tracking employee hours is outdated, you may struggle to maintain compliance with ACA requirements. Upgrading from an outdated system or manual tracking to comprehensive ACA software can help you maintain accurate ACA-related employee data.
Using a knowledgeable ACA support provider can help you match up measurement and stability periods, help you handle compliance for multiple EINs, and ensure you are supported through the entire process.
ACA Software
If you are manually tracking or using a payroll solution that was not designed with ACA compliance in mind, comprehensive ACA software can help streamline data management year-round.
Comprehensive ACA software provides much more than just forms, so you can track and manage ACA-related data throughout the year.
Outside vendors may become expensive, or you may find you are doing most of the work yourself anyway. Effective ACA software can help track when offers of coverage are needed and if the coverage is considered affordable under IRS criteria.
Using ACA software, as opposed to manual tracking, can reduce the risk of error and streamline the entire compliance process.  Accurate employee data is needed for a monthly review to determine eligibility in order ensure compliance.
Sensitive Data
Processing payroll and managing ACA compliance both require storing sensitive employee data. While running software on a remote server, as is done with a cloud or a hosting service has certain advantages such as remote back-up and reduced server maintenance costs, it also has the liability of service interruption.
As has been described in the news, employees are most directly impacted by breaches of security and service interruptions. The inconvenience and anxiety caused by delayed paychecks and exposed personal data is hard to estimate but certainly is not trivial.
Not only can network and server precautions be implemented and managed locally, but high-quality ACA software and payroll software offer protective options to support fraud prevention measures. Having a choice allows small manufacturers to select a software solution that will best fit their operation.
Our ACA software with optional in-house payroll offers small manufacturers an on-premise solution with fraud prevention measures. And, without the liability of an internet service interruption or a cloud-security breach.
Passport Software
Passport Software's ACA software and services can help manufacturers that may be struggling with the challenges of tracking and managing ACA-related data throughout the year.
We've been helping ALEs with ACA compliance since 2015, and our experts can help walk you through the entire process. Our ACA support staff has an in depth understanding of the ACA and can answer ACA questions in general. And, we can help you select an ACA solution that works best for your company.
Our comprehensive IRS-certified ACA software is affordable and easy-to use, and we are IRS-approved for optional proxy submission. Our ACA Full Service option is the easiest – just provide a spreadsheet with employee data, and we do the rest.
We can help you maintain compliance in order to reduce the risk of potentially steep penalties. We also provide penalty response services and have helped many companies avoid, or drastically reduce penalties.
You can opt for our stand-alone ACA software solution or ACA Full Service option. Also, PBS™ Manufacturing ERP integrates with our PBS™ Accounting and ACA software.
PBS™ Manufacturing with Optional ACA Compliance
Passport Software's manufacturing software is a robust ERP system designed for small to mid-sized manufacturers. PBS Manufacturing can help you streamline operations to increase productivity.
Currently, the manufacturing sector is facing the ongoing problem of a lack of skilled staffing. Many shops are facing employee shortages.
According to a recent study by Deloitte, the US will need to fill approximately 3.5 million manufacturing jobs in the next 10 years. And, 2 million of those jobs will likely be unfilled due to a skills gap. The findings indicate that, "U.S. manufacturers surveyed believe that finding the right talent is now 36% harder than it was in 2018, even as the unemployment rate has nearly doubled the number of available workers."
PBS Manufacturing can help improve efficiency to facilitate more throughput with fewer employees.
If you are manually tracking or using workarounds due to an outdated system, our manufacturing software for small business can help you do more with less – less time, less effort, and less redundancy.
And, PBS Manufacturing integrates with PBS Accounting for a full-featured ERP solution, including optional ACA compliance management.
Call 800-969-7900 to learn more about our ACA software and services or PBS Manufacturing software for small businesses and mid-sized companies. Or, contact us – we are here to help.
You can also email psi@pass-port.com with questions.
---