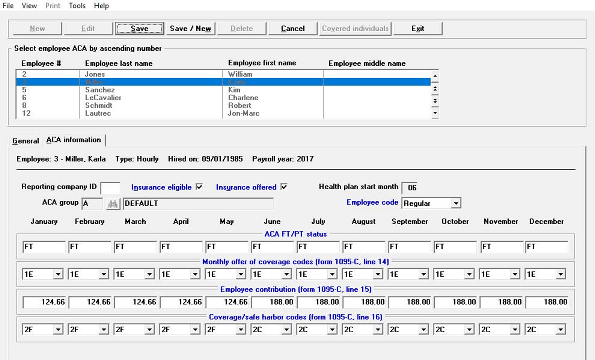 ---
---
ACA Resources to Help Select Your ACA Solution
Hello again,
This post is for Applicable Large Employers (ALEs) required to comply with the Affordable Care Act. We hope you find it useful.
Our ACA software and services can ease the burden of ACA reporting and year-round compliance. Here are some links to helpful video resources to help you select an ACA compliance and reporting solution that's right for your company.
ACA Software Overview
The quick tour video of our ACA software solution is located on our main ACA compliance management page. This video resource provides an overview of how our software can help simplify year-round data management to help you avoid costly penalties.
ACA penalties can be incurred any time during the year so compliance requires year-round management. Our IRS-certified ACA software helps streamline the compliance management process to help you avoid potentially steep IRS penalties.
Our ACA software dashboard resembles the 1095-C and is easy to use as the software automatically recreates unique employee records for each new year. There is some initial data entry required using a simple spreadsheet with basic employee information.
·       Manages ACA-related data year-round and handles paper and electronic submissions
·       Status alerts informing you about offers of coverage needed for full-time employees
·       Monitor staff who are unexpectedly trending toward full-time while there's still an opportunity to       manage it.
·       Determine if the offers of coverage are considered affordable under IRS criteria using the Insurance Report.
If you fail to offer applicable, affordable coverage in a timely manner, there is no way to correct the mistake retroactively. Our ACA solution helps Applicable Large Employers comply with the ACA to help avoid costly penalties throughout the year.
ACA Full Service
We also provide quick and easy ACA Full Service – just provide a spreadsheet of employee information and we do the rest, including filing. Most payroll sources can provide this spreadsheet.
You can watch a Full Service overview video on this page to learn more. Our clients' needs vary, and many companies prefer to turn the entire process over to us:
·       ACA Full Service includes initial data entry, importing company and employee information, importing payroll spreadsheet hours data, and generating employee ACA records for compliance management tracking.
·       We provide IRS tin matching to save you time and prevent social security number errors that do not match the IRS database.
·       Full Service includes digital pdf validation drafts, sending employee 1095-C copies to the employer for redistribution, electronic filing of the 1095-C and 1094-C with confirmation, and notification of errors if reported by the IRS.
Additional administrative services are available a la carte by purchasing support time. These additional services can be useful for companies with a lot of employee turnover or fluctuating full-time/part-time identifications:
·       Maintaining termination dates and adding new hires
·       Changing ACA offer codes and contribution amounts
·       Corrections including data entry and new electronically filed corrections with confirmation
·       Periodic management reporting such as full-time/part-time status monitoring, insurance cost analysis, or custom reports.
Simplify and Demystify the ACA
Another helpful video resource is a prerecorded webinar called Simplify and Demystify the ACA, which provides an overview of our IRS-certified ACA software and some sticking points to watch for if you're preparing to file.
Identifying full-time employees is crucial in order to make applicable and affordable offers of coverage. If you expect a new hire to average 30 hours a week or more, then you should offer them coverage within 90 days. If you are unsure, the Simplify and Demystify the ACA video explains the IRS Look Back Method, where you can measure for up to 12 months and take a 13th month to look at the results and decide.
In the video, Adam then explains how eventually everyone gets rolled into a common measurement cycle, which is called the Standard Measurement period, whereby, hours for all ongoing employees are measured together. With the Standard Measurement period, you evaluate just once a year right before your plan start month, and then your stability phase coincides with your insurance plan year, which may or may not be a calendar year.
Passport Software's friendly experts are here to answer any questions you might have about our ACA software and services, as well as ACA-related questions. We also provide penalty relief consultation and have helped many companies avoid or drastically reduce penalties.
To learn more about our ACA software and services call 800-969-7900. Or, contact us – we are here to help.
---