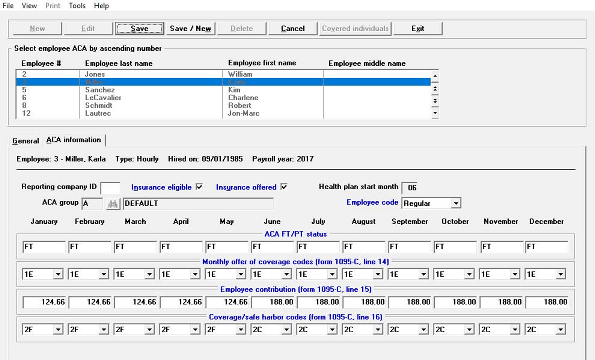 ---
---
Simplify ACA Compliance Management
Hello again,
This post is for Applicable Large Employers (ALEs) required to comply with the Affordable Care Act. We hope you find it useful.
We recently received a call requesting help from a business owner who had been manually tracking ACA data for several years. Though he hadn't yet received any ACA penalties, he was stressed and overwhelmed by compliance management and reporting.
The nature of his company involves fluctuating employee hours and a lot of staff turnover, and as compliance management became more complex, he was in need of guidance.
Many of our ACA customers come to us stretched to the limit with pressing business duties in addition to having a lot of ACA data to keep track of. They are in need of consulting about how to successfully manage compliance and which solution is best for their company.
The overwhelmed business owner was pleasantly surprised at how easy our ACA software is to use, as the employee information dashboard is similar to form 1095-C.
He knew there was a better solution for him than manual tracking. Yet he'd been putting off finding a better ACA solution due to the fear that changing solutions would be a hassle. He said if he knew how easy it would be to use, he would have purchased our ACA software sooner.
Another new customer came to us because they were doing all the work on behalf of their reporting service which had made a filing error.
What our customers tell us is that we make ACA compliance management and filing so much easier than their prior solutions.
Data Accuracy
Accuracy is important when determining employee full-time status, and if you are manually tracking, ACA software can help streamline data management.
Tracking employee hours may be difficult because of company size, fluctuating work schedules, temporary or seasonal workers, or work at multiple locations.
It's also important to accurately identify employee full-time status under leave policies. Paid leave, such as leave taken for vacation hours, holiday hours, emergency sick leave, and other paid leave hours are included with hours worked for determining employee full-time status.
Unpaid leave, such as FMLA leave, may need to be factored into full-time determination by reducing the length of the measurement period. This is the case for the Look Back Method but not the Monthly Measurement Method.
"Affordable coverage" must be offered to 95% of full-time employees (and their dependents) who work an average of at least 30 hours per week.  The IRS has provided three affordability safe harbors that ALEs can use to help prove affordability.
ACA affordability is based on an employee's household income, but companies generally don't know this amount. A safe harbor allows you to calculate whether employee contributions fall within the affordability criteria. Utilizing a safe harbor can help prove to the IRS that the coverage offered meets affordability standards.
Our comprehensive ACA software allows you to select your Safe Harbor, Initial and Standard Measurement Periods under the Look Back Method. It also alerts when offers of coverage are needed and whether those offers are considered affordable under IRS criteria.
Our helpful experts can provide guidance to help you select the appropriate Safe Harbor, the Rate of Pay Safe Harbor, the W2 Safe Harbor, or the Federal Poverty Line Safe Harbor.
Customer Support
Expert guidance is an important aspect of effective customer support from your ACA software or services provider. Your customer support expert should be able to answer any questions about ACA compliance in general and be able to help guide you through the entire process.
In addition, excellent customer support should be readily available. Our Affordable Care Act software and services include consultation support.
Our support staff are available during business hours, and you do not have to navigate a complex phone menu for help. We are here to help and will pick up the phone or respond in a timely manner to ensure you are getting the best service possible. Our ACA software helps track ACA-related data year-round, and we provide walkthrough of our easy-to-use software. We also offer extra training and support at an affordable hourly rate.
Passport Software's friendly ACA support experts have been helping ALEs simplify and comply since 2015, and we've received excellent reviews about our ACA software, services, and support. Our ACA Full Service option is the easiest as we do it all for you throughout the year including filing.
We can help with late filing, missed filing years, and we provide penalty response consultation services and have helped many companies avoid or drastically reduce penalties.
Our ACA Software
ACA penalties can be incurred throughout the year, so compliance management is important year-round. Our ACA software helps you simplify ACA-related data management to help ensure compliance.
Our ACA software employee record dashboard resembles the 1095-C and includes IRS codes. Here you can update records or create records for new employees. Once you have entered some initial employee data, the software will automatically recreate new employee records each new year.
Passport Software's comprehensive ACA software produces the forms needed for paper or electronic filing. And, our software helps with preparation during the year. It produces a report that alerts when employees are trending towards full-time and offers of coverage are needed.
The Insurance report determines when offers of coverage are considered affordable under IRS criteria. It's crucial to make required offers of "affordable" coverage before it's too late. Realizing you made mistakes after the fact could result in steep penalties.
Reporting-only services may not provide guidance about year-round compliance management criteria. Having expert customer support and ACA compliance guidance can help to avoid costly penalties.
Here's a helpful overview video on our ACA software and services page. To learn more call 800-969-7900. Or, contact us – we are here to help.
---