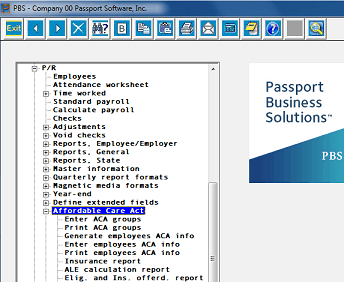 ---
---
Simplify Tracking and Reporting – ACA Compliance Software
Hello again,
This post is for Applicable Large Employers (ALEs) required to comply with the Affordable Care Act.
The effort to repeal or reform the Affordable Care Act has been put on hold for now, although Congress may attempt changes in the future. This could occur via bipartisan health care reform, or another "repeal and replace" measure could be introduced in Congress.
Compliance is mandatory
ACA compliance and reporting are still mandatory, and penalties can occur for the following reasons:
1. Failure to offer qualifying coverage at the time an employee becomes eligible, and the employee goes to the exchange and gets a subsidy for insurance.
2. Filing penalties can occur by failing to provide 1095-C forms to full-time employees, or not filing 1094-Cs /1095-Cs to the IRS in a timely manner.
3. Willful non-compliance.
Regardless of what ACA changes may occur, it is likely that employer reporting (1095 – Cs) will remain mandatory through 2019.
Vulnerable Industries
Tracking employee data throughout the year is crucial for maintaining ACA compliance and avoiding penalties.
Industries employing workers with fluctuating hours are especially vulnerable to errors in data-tracking.
These include restaurants, hotels, casinos, resorts, and the service industry in general.  Temporary employment agencies, nursing care facilities, and retail operations may be more vulnerable to tracking errors as well.
Other businesses employing workers with fluctuating hours include universities, trucking companies, construction businesses, and security services.
Compliance data for part-time employees with varying hours and seasonal workers should be tracked carefully.
Automation
Passport Software provides comprehensive ACA compliance software that is much more than just forms. Automation and data import simplifies tracking and reporting. Employee status updates are provided; monitor data throughout the year to help avoid penalties…and much more.
Learn more about Passport Software's ACA compliance software.
---