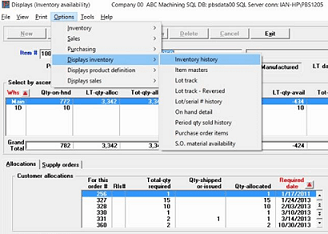 ---
---
PBS v. 12.05: Manufacturing Software for Small Businesses and Mid-sized Operations
Hello again,
This post is for medium sized and small manufacturing businesses. There is a lot to be excited about with our newest release, Passport Business Solutions™ v.12.05!
Many of the new system-wide features will benefit all of our users, but there are a number of enhancements that pertain strictly to PBS™ Manufacturing software for small businesses and mid-sized companies. These all add up to more flexibility and efficiency throughout the system. Here are just a few of them:
System-wide Enhancements
Field expansion – In both Accounts Payable and Payroll we have expanded many fields to accommodate longer entries, and address an increasing need for international addresses. These include name, address and purchasing addresses as well as the addition of email addresses, website link fields and improved overall contact data management. Version 12.06 will continue our expansion of the data base fields for the rest of the PBS modules.
Contacts expanded use – We've also expanded the contact records related to vendors to include the larger/additional fields, and contacts can now be tied to Vendor's Purchasing Addresses. All Accounts Payable contacts will be stored in a shared contacts file moving forward. This prepares us to move AR contacts into the same file in 12.06 to eliminate redundancy and allow you to efficiently manage all contacts throughout your system.
Multi-monitor support – You have been able to open multiple sessions of PBS on your windows machine for some time, and drag the other session over to another monitor. With v.12.05 improvements, the software now remembers where you were, so the next time you run PBS, it will open at the same size and position on the last monitor where PBS was closed. The program will also open any sub windows on the same monitor as the initial menu screen.
Menu style, user by user – PBS supports three different menu types, and until now that has been a system wide option. Now you can select the menu style for each user on the system!
Manufacturing
New Graphical screens – We have introduced 20 new graphical screens to manufacturing. This will give you a more functional application, providing more information at your fingertips, and faster access to critical information. Here's one example:
Better organized "Options Menus" – As we have expanded the number of programs available with the graphical user interface, we've re-organized our Options menus to be more logical, making it faster for you to get at the information you need. You'll notice they are now organized by module and major function in many places and soon will be across the entire PBS Manufacturing system.
Product Purchasing – Product Purchasing now checks the AP Vendor Status and when entering a PO, it will warn you if the status is set to Hold Payments or No Purchases. This can help prevent you from purchasing product from vendors you'd rather not do business with.
Customer Order Processing – You can now customize forms for both quotes and sales order acknowledgements to suit your individual needs.
Inventory History – We've added a new field to the Inventory History Report and Display, Parent Item, that allows you to see what parent product was being made on the issue transactions against shop orders.
Learn more about our Small Business Manufacturing Software for small and mid-sized companies. Or Contact Us – We are here to help.
---