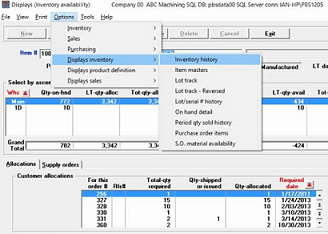 ---
---
Planning Ahead – Manufacturing Software for Small Business
Hello again,
This post is for manufacturers with small businesses or medium sized companies. The following is written by Passport Software's manufacturing consultant Dave Dorsey.
Dave has been involved with business software for 30 years and manufacturing software since 1995. During this time, he has had the opportunity to work with hundreds of manufacturers, who've made a variety of products in many different ways.  We hope you find this information useful:
If it ain't broke…
"If it ain't broke…don't' fix it."  That is a rather common, conservative and "safe" philosophy that many of us have employed over the years to many aspects of our lives. I have to admit that I've been guilty of this myself on occasion. Is this really a safe approach? I guess that depends.
When it comes to critical aspects of one's business, it may not that safe. I have been involved in providing software solutions to manufacturing companies since the mid 1990's. That old adage has been handed to me as a reason for not changing or moving forward with a change many times.
Yes – that older system has served your company well for a lot of years and you should be thankful – or feel lucky. However, just because it has done the job for 10, 15 or 20 years doesn't mean it will do so for the next 20 years, 20 months, or even 20 weeks.
What if your older technology crashes?
Here's the risk: Technology has continued to evolve and propagate itself at a faster and faster pace. If your current server dies, or the operating system blows up, or your back up doesn't back up, or your software crashes – you are left without the critical information you need to operate your business on a daily basis.
Imagine not being able to find your customers or vendors; or losing access to all of your inventory information; not being able to cut payroll checks; or not knowing who owes you how much money or when it will be coming.
That's the type of crisis you could have if your system goes down. Face it, we've become very dependent on technology and on that "old, reliable" system.
Planning ahead
So why not plan ahead?  Even if you're not in the position to buy a new system today, it doesn't hurt (or cost anything) to start the educational process. It often takes longer to identify the right solution than it does to buy and implement it. At least this way if "old reliable" goes down, you know where you're going.
No one plans to fail, but we often fail to plan.
A resurgence of US based small manufacturing has begun recently. I've seen a number of articles in the media citing this. This has been substantiated in my conversation with many of you and your peers as well. The time for change might be sooner than you think.
Recently, I was in the Midwest on a sales trip. One of my stops was with a prospect I'd been speaking to for almost two years. They had decided long ago that PBS™ manufacturing software for small business was the right solution for their company, but they hadn't made any moves.  Just before I went out to visit them, they had decided to move ahead in the late fall.
After my visit, they thought it might be better to move forward a little sooner – at the end of September. A few days after I returned to my office I received a call from these folks. Their old reliable system had crashed, and they'd been able to resuscitate it – barely.
Their old system died
They wanted to move ahead right away, which we agreed to do. Their IT partner ordered new hardware and installed it. Our local PBS partner started on a data conversion, the new manufacturing software was installed, and we held the implementation/planning meeting.
Then we got everything set up and were just beginning training and their old system died. We managed to compress the 60-day implementation/training process down to about 3 weeks and they went live.
Believe me, the stress that caused wasn't fun for anyone, but we got it done and we have another satisfied new user. However, I assure you, no one involved would suggest that anyone else take that approach. By the way, this company realized their ROI (Return on Investment) in under a year.
Enact positive change
I strongly believe that small US based manufacturing is the backbone of this economy.  Since the recovery appears to have begun, does it make sense to keep just getting by? Why not be proactive and enact positive change that can help you make the most of what's coming?
So if you're running an "old, reliable" system that "ain't broke" – you might want to give me a call.  We can begin the educational process and see if PBS small business manufacturing software is the right solution for your small or mid-sized business. You'll be one step ahead –  just in case something does happen.
Learn more about Passport Software's small business manufacturing software for small to mid-sized companies. Or contact Dave at ddorsey@pass-port.com or 800-969-7900 x145.
---