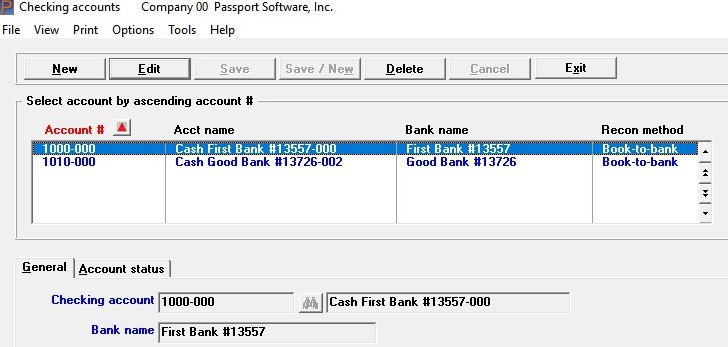 ---
---
Check Reconciliation Software
Hello again,
From general ledger to payroll, our accounting software helps your small or mid-sized operations when you have outgrown entry level accounting software.
Passport Software's Check Reconciliation software helps reduce costly errors and omissions – automated reconciliation with Passport Accounts Receivable, Accounts Payable, and Payroll Software checkbook transactions.
Work faster without losing accuracy: General Ledger distributions from check transactions such as bank charges, wire transfers, interest earned, etc. can be directly interfaced from Check Reconciliation to the General Ledger package, reducing repetitive date entry.
Reduces errors: Safeguards prevent your information from getting out of balance or tangled up during the reconciliation process. Bank to book or book to bank reconciliation.
Detailed Reports protect your operations: Provides a Reconciliation Report, a Checkbook Report, and an Account Activity Report.
Learn more about Passport's Check Reconciliation Software.
Passport Software
Passport Software provides affordable on-premise Accounting Software that requires a one-time purchase and nominal annual update fee.
When vetting your software solution, the level of customer service and tech support are also important aspects of choosing your software solution.
Having someone you know to contact, your Passport Partner or your IT Support person, when there's a need makes a difference.
With 30+ years of experience, we've implemented several thousand installations that are supported by our channel of North American and International Partner professionals.
Call 800-969-7900 to learn more about how our Accounting Software can benefit your company.
Or Contact us – We are here to help.
---