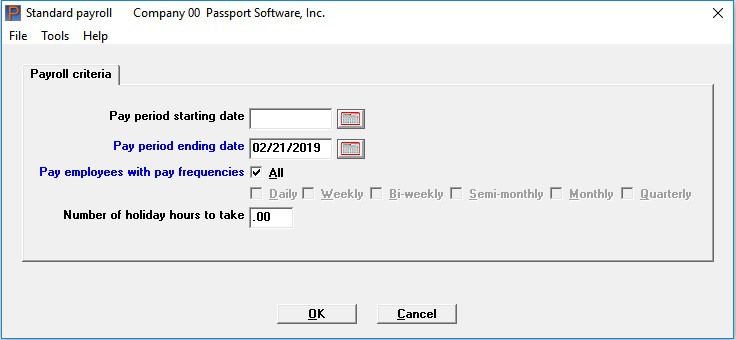 ---
---
In-House Payroll Software for Small Businesses & Mid-sized Companies
Hello again,
Your company can save money on an outside payroll service by running Passport Software's easy-to-use, in-house payroll software.
·         Comprehensive: In-house payroll management provides safeguards: For accuracy and privacy
·         Flexible settings: Accommodates a variety of payroll and deduction needs
·         Compliance: Software updates issued as needed to adhere to federal, state, and local payroll reporting regulations
·         Safeguard sensitive data: User and system level access controls. Payroll does not even appear on the menu for those users not associated with payroll processing
·         Reduce fraud: Direct Deposit reduces check access and printing costs. Positive Pay records produced for transmission to your bank provide further control
·         Audit trails and comprehensive reports protect your operations:  Payroll check register, history report, union deductions report, hours report as well as a standard quarterly report, a 1099 report (for non-employee compensation), a year-end W2 information report, and more
Optional: Add TimeClick time clock software to allow employees to clock in and out from computers across your network. Securely manage employee time and run reports in Administration mode. Import data into PBS Payroll for quicker processing.
Learn more about Passport Software's payroll software for small business and mid-sized companies.
Food Service Payroll
Food Service Payroll fulfills industry-specific payroll needs for restaurant and food service operations, as well as the Hospitality Industry in general.  Manage different pay rates for employees performing multiple job functions in one shift. Ongoing ROI in as little as six months due to cost savings with an outside payroll service.
Call 800-969-7900 to learn more. Or Contact Us – We are here to help.
---