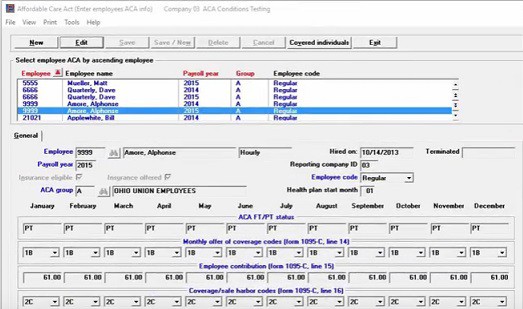 ---
---
ACA Reporting Services – Simplify Filing and Compliance
Hello again,
This post is for Applicable Large Employers (ALEs) required to comply with the Affordable Care Act. We hope you find it helpful.
In spite of ongoing Congressional resistance, Affordable Care Act compliance remains mandatory. ACA reporting is required for the 2017 tax year, and extended filing deadlines are not likely.
In past years, the IRS has been lenient about enforcing fines, but the risk of penalties is now an ongoing factor throughout the year.
For some companies, outsourcing ACA compliance and reporting may be the quickest and easiest option. It's important that reporting be accurate and on time to avoid possibly steep penalties.
Deadlines
·         Form 1095-C is due to employees by Wednesday, January 31, 2018
·         Paper filing by February 28, 2018
·         E-filing – by March 31st 2018
Penalties
Employer Shared Responsibility Provisions:
Type A—for any month that an ALE does not offer minimum essential coverage to at least 95% of its full-time employees (and their dependents), the ALE will be liable if at least one full-time employee receives the premium tax credit for purchasing coverage through the Marketplace. This penalty is $2,320 for every full-time employee (minus the first 30 full-time employees).
Type B—If an ALE does offer coverage to at least 95% of its full-time employees and their dependents but at least one full-time employee receives a federal premium tax credit for marketplace coverage, the employer must pay $3,480 for each employee receiving the tax credit. This is the yearly amount, but is prorated on a monthly basis if an eligible employee was offered qualifying coverage for part of the year.
Other penalties may also apply for late filing, failure to file, or filing certain incorrect information.
Preventing errors
A common filing error, the TIN validation error, usually involves an incorrect employee social security number.
Our ACA Reporting Services provide TIN Matching to prevent information errors, as well checking for other possible filing errors in order to help prevent the need for corrections.
Passport Software's ACA Reporting Service handles reporting and compliance throughout the year for you – just provide a spreadsheet with employee data, and we do the rest.
Learn more about how our ACA Reporting Services can save you time, maintain compliance year-round, and help reduce the risk of penalties.
Or, Contact Us – We are here to help.
---