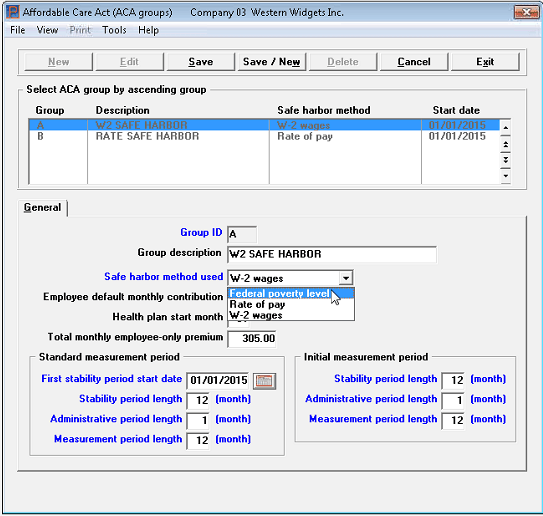 ---
---
PBS™ ACA compliance software
Hello again,
This post is for companies who are ALEs required to report to the IRS under the Affordable Care Act. Some of you are currently using Passport Software's ACA compliance software and may want a brief review.  Others may be curious about our solution, so here is a quick overview of our ACA software.
The following is a transcription of Passport Software's webinar: Passport Software's ACA Compliance Management Software in Action
Setting up groups
The first thing to do with Passport's ACA software is to set up your groups, which includes choosing your safe harbor.  You can use as many groups as you like.  For most businesses, one works fine.
The "W2 Wages" safe harbor works best for most companies, but you do have the options of federal poverty level, or rate of pay.
Now set default values for the health plan start month and employee contribution.  Next is the total monthly premium.  Our health insurance analysis report uses this information to compare costs, and will tell you if you are meeting the IRS affordability standard.
The most important thing about the group settings is your measurement periods. You want these to coincide with your insurance enrollment dates.  If the enrollment date is in January, then start your stability period date on Jan 1st, and select a 12-month stability period.
There are various measurement period patterns you can select: A 6-2-10 pattern can get out of sync with your insurance enrollment dates, so, for most businesses it's not as desirable as a 12-1-12 pattern, which is the longest allowable setting, and it allows you to flatten out any fluctuations of you have a seasonal business. But you may gain an advantage in the retail sector or with seasonal employment if you do select a different pattern than 12-1-12.
Set the length of times for your initial measurement period, which is for new employees. The law says their measurement period begins the 1st day of the month after they are hired.
You also have an option to print these with our ACA software.
Generating ACA Employee info
Select payroll year and then select your group ID (most likely W2 Safe Harbor).
Anyone listed as "salaried" in their employee record will automatically be termed full time, but you can select hourly employees – choose whichever is the most common case.  If most of your hourly employees are part time, you can change the setting to PT.
Then select your most common coverage code.  For most businesses who are complying with the ACA, it's going to be 1E.  Code selection is probably the biggest question people have for us, due to complex definitions by the IRS.  For example, 1B, 1C, 1D and 1 E all look very similar.  They state that you made an offer of coverage providing minimum value for the employee, but they differ by whether or not the spouse or dependents are included.  If you're including the spouse, you can use 1E for all employees -even if they're single.
You enter standard contribution amount if everybody could pay the same amount. Or you can override it.
For the Safe harbor code, select the most common code. if most people are accepting and enrolling, it's series 2C.
If most are declining, and you're using W2 wage safe harbor, the code is 2F.
Now click OK, and our ACA software will set up a record for everyone who was working during the selected year. This feature will not overwrite any existing records.
You can easily create thousands of records simultaneously with Passport Software's ACA Compliance software. The automation is much easier than creating hundreds of employee records by hand.
Enter Employee Info
This part of the software has a strong resemblance to the 1095-C.  You will see it has the series 1 codes, contribution amount, and series 2 codes. You cannot edit prior years already filed, but you can edit the current year, as these forms have not been issued yet.
When you select the individual employee, you will notice the ACA software has filled in codes prior to their hire date, meaning no offer of coverage was made prior to hire.
Editing an individual employee record is very easy.  Our ACA compliance software has a lot of short cuts. If you change a code for one month, hitting F1 repeats that value for the remaining months.
You can print a full version (about 5 employees per page) or a brief one-liner.
Multi-company
The multi company hours consolidations, if you an employee working at multiple EINs, this pools an employee's hours from different companies that you have set up in the ACA software.  By law you are supposed to combine these hours, and you need to know and identify these employees before you are required to make those offers of coverage.  This feature allows you to do that.
Insurance report
This provides a helpful analysis to make sure your offers are considered affordable.
ALE calculation report
This calculation report is useful for companies who are not sure if they are ALEs. It calculates Full Time Equivalents, so if you have 1000 employees working 10 hours a week, you're an ALE, though not a single person may not work 30 hours a week.
Eligible and Insurance offered report
Eligible and Insurance offered status is also flagged under the individual's employee ACA record.  Here, you can get a distilled list.  If you're using our payroll and graphical or direct deposit remittance, these will trigger and offer of coverage to be printed on check stub or remittance, which constitutes a legal offer so you don't have to remember to do this on your own.
The Initial Measurement Period & Standard Measurement Period Reports
These reports are critical if you have a lot of turnover or part time people. There are a variety of outputs including pdf and csv.
Using a .csv you can sort to focus quickly on people around the 130 hour per month threshold, and pay special attention there. This report you how people are trending, and it also indicates any inconsistencies between the classification and actual hours worked.
Safe Harbor Comparison Report
This crunches the numbers for you, on an employee by employee basis, to indicate which safe harbor would be the best: federal poverty level, rate of pay or W2 wages
Reporting
The Corporate or Enterprise license includes electronic submission and creates employee hard copies as well.
You can also generate test submissions in order to apply for your transmitter control code before you file. The IRS will then let you know if you passed your application and test submission, and if it has approved the credentials of people authorized to submit on behalf of a company.
Our ACA software generates the test files for you to submit.  Our software gives you all the tools you need to get your TCC for free.
Of course, our ACA compliance software will also finalize your reporting, which creates your employee and electronic copies and locks those forms for that year.
For the next year, it automatically generates the records for each employee. When you close each year, the new files are created automatically.
Even better, our ACA software uses the December values for each individual employee. If there are different contribution amounts, or different series 1 or 2 codes, you don't have to change those manually, as they will be retained for the new year.
Selecting "validate" allows you to create forms for your employees in order for them to review their information. This can help you avoid filing corrections with the IRS.  The social security numbers are masked, so you can also use these to keep hard copies on file.
Help
Our software features context sensitive help documentation.  To get more information on any field, you simply click there and hit control-F1 on your keyboard.  Here is an example of the often confusing line 14 and 16 codes.  In the documentation, we have tweaked the IRS definitions to clarify the terminology and codes.
Common questions about Passport Software's ACA Compliance Software:
What will happen to the software if the IRS reporting requirements change for the end of year reporting?
There are changes every year – such as adjustments to the federal poverty level or new codes.  The IRS frequently tweaks its legislation, but these would be addressed by our software maintenance plan, the Passport Update Program.
Even if new legislation passes Congress, there is no indicator that anything will change for the 2017 tax year, or even that reporting will be eliminated long term.  So far, compliance is still mandatory for the 2017 tax year.
Will you explain the difference between the software and your services?
The software option: We provide you with the ACA software license with a modest update renewal fee every year, which includes changes and updates and ensuring everything complies with current rules.
This year we came out with Full-Service.  With this service, we manage your ACA compliance all year for you. We import your employee data (basic employee information) and we do all entry, report preparation, data management, and end of year filing for you.  We can provide you with monthly, semimonthly, or semi-annual measurement period reports too if desired.
Also, we provide a proxy-submission service. We are IRS certified to submit on your behalf. At year-end, provide us the data and we'll manage the filing and any follow-up needed.
Learn more about our ACA Compliance Software and Services. Or Contact Us – We are here to help.
---