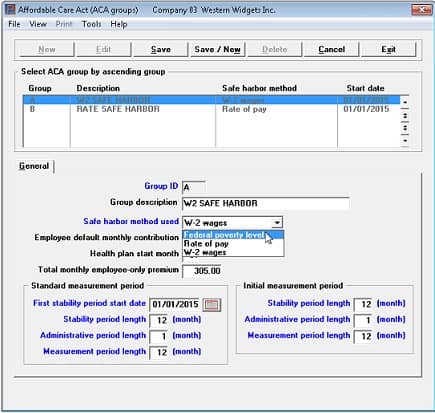 ---
---
Passport Software: ACA Compliance and Reporting
Hello again,
This post is for Applicable Large Employers (ALEs) required to comply with the Affordable Care Act. We hope you find it helpful.
Affordable Care Act compliance and reporting remain mandatory, and the IRS is now enforcing penalties.
Tracking ACA data throughout the year and end-of-year reporting can be a complicated process. Passport Software's ACA Compliance Software simplifies the process and helps ease the burden of ACA employee data management and reporting.  We are also IRS-approved for proxy submission, which is an optional service.
Or, with our ACA Full-Service, just provide an employee spreadsheet and we do the rest.
We have excellent support, and we also provide consulting, including advice on possible penalty relief. Our ACA services are efficient, affordable, and help reduce the stress of ACA compliance.
Our ACA Compliance Software is easy to use and provides various reports – including one that tracks employee hours which may fluctuate throughout the year.
These monthly status updates are helpful for tracking new hires and part-time employees with variable hours who may be trending towards full time.
If you are manually tracking, the time saved by using our ACA Compliance Software, or ACA Full-Service, can be significant.
What distinguishes Passport's IRS-certified ACA solution from others?
Data Import, Speed and Ease: Import employee information, quickly generate every employee ACA record, and it is even easier for subsequent years in Passport. Plus, you get all the tools to avoid IRS penalties throughout the year.
"Please know that I am very grateful for all of your assistance with all things ACA! The IRS has not been helpful and I am flying solo within the company for this, so you have been an absolute godsend!" – C.N., Accounting Manager
Learn more about our ACA Compliance Software. Or Contact Us about ACA Full Service – We are here to help.
---