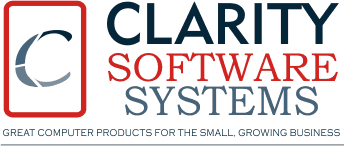 ---
---
Clarity Software Systems – Now providing Food Service Payroll
Hello again,
Thank you to Mark Bennett of Clarity Software Systems for the following guest blog post about Food Service Payroll:
Tracking Hours & Reporting Tips
It's been a few years since I started selling a completely new (to me) product. Here's a brief synopsis of what this program does.
Most larger restaurants, banquet operations and hotels have swarms of workers. This is a labor-intensive type of business, and the management must deal with the problems that come with that.
One of those problems is that of tips. There are a lot of pretty obscure tax issues that come along with the food service industry simply because tips must be reported as income.
Many of these businesses have farmed out their payroll operations in the back office to payroll service businesses.
But this leaves most of the burden of accurately collecting the hours of each employee, splitting out the hours for each job worked, reporting tips, etc. all in the hands of the management.
Payroll Service Company Drawbacks
Then they feed the summarized information to the payroll service company who prints the check or makes the ACH deposit to the employee's bank, and also makes the Federal Tax Deposit and files the From 941.
So the management still must do the work, and be responsible for any mistakes, and the payroll service usually charges a hefty fee for handling the money end.
This is where Food Service Payroll comes in.
This allows the management to bring the payroll calculation back in house and save the money that is being paid to the service company.
In some cases, the restaurant can recover the cost of installing the system in six months. After that the savings go straight to the bottom line.
Food Service Payroll and ACA Compliance
Since the program will accept time clock data from popular restaurant POS programs such as Micros, Aloha and Positouch, and since the program allows each employee to work in up to five different departments per time period with different pay rates, a great deal of properly sorted payroll data is collected on a daily basis.
Another issue this program addresses is the Affordable Care Act. Many ACA reporting programs are simple form-printing programs.
The Passport ACA program accumulates data with each pay period and prints management reports that tell you when the employee must be offered the opportunity to enroll in the insurance plan.
All of the end of year forms are printed when necessary for IRS compliance. If you have several facilities and employees that work in different departments under a single corporate umbrella, you know how complex the demands for ACA compliance can be. This program handles those situations.
We hope you found this information useful – Visit the Clarity Software Systems website.  Or Contact Us – We are here to help.
---