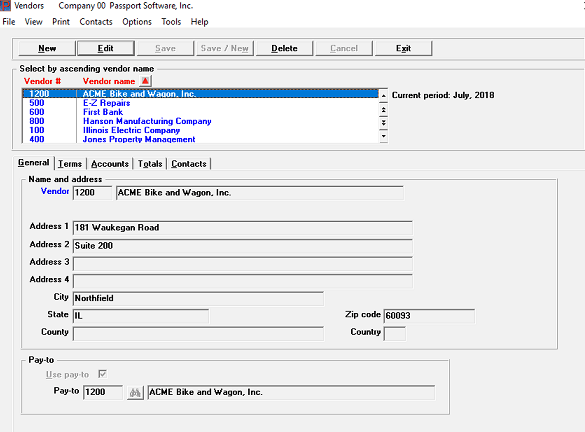 ---
---
PBS™ AP Change Vendor File
Hello again,
This post is a follow-up to a prior post Accounting Controls: Help Protect Your Small Business from Fraud.  We hope you find it helpful.
Passport Software's Accounts Payable module provides a Change Vendor file which can help prevent, or at least diagnose, potential fraudulent activity.
The Change Vendor File is a file that many users are unaware of, and for most people, it has either been automatically been turned on, or their partner turned it on just because most people have it on.
What this file allows, or what it causes the system to do, is to log every change to your vendor file. This gives you a before and after image.
If you change the name from Peter to Pietro, or you change an address from 123 to 586, the Change Vendor file logs the before and after image of those changes.
Forensic Data
The Change Vendor historical data is useful because it logs who changes information and when they do it. This is useful from a forensic point of view.
Passport Software has an interesting video about fraudulent uses of accounting systems, and this includes certain experiences of a Passport Partner who has a specialty in forensic accounting – and he happens to know the Passport Software quite well.
This historical data would be part of being able to protect against fraud, or at least diagnose and follow back what had happened.
Although the data is useful to have, you may not want to hang onto it too far back in your active PBS system.
What you might want to do is save the change vendor file as part of creating an archive company, but going back a year or two in your active PBS system from an operational point of view is probably all you want.
Storage
The Change Vendor historical data would be something useful to have stored for longer term going farther back – but off site.
This is where these archives companies come in – you'd be able to save the whole archive, including the change vendor file that could be saved as long as you want, put on CD-ROM, etc.
And then if you discover there's been some fraudulent activity ten years ago, you still have some way of coming back and checking that out.
Learn more about PBS Accounts Payable Software. Or contact us – we are here to help.
---