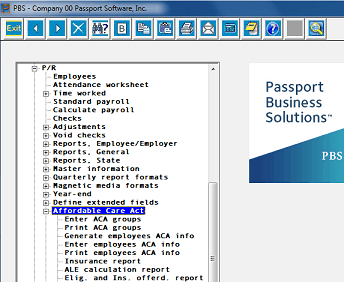 ---
---
ACA Reporting – How do you fit in?
Hello again,
This post is for Passport's Partners – We hope you find it useful.
If you have clients who are required to report on the ACA, 50 full time employees, including part-time equivalents, or more, or any number of employees if self-insured, you can help them save lots of money by avoiding IRS penalties.
We offer everything from a one-time in-house software license fee to an optional IRS-approved proxy submission service to file on your customer's behalf, as well as Passport's Full Service ACA Reporting, where we do it ALL throughout the year, from employee management to electronic filing.
How do you fit in?
If you choose not to deal with the complexities of ACA reporting, any ACA prospects can be referred to PSI. Both you and they will be happy with the outcome.
We believe Passport Software has the best ACA solution on the market for ACA compliance reporting, including all the electronic reporting. Check us out at Capterra Reviews. We have been helping hundreds of companies meet their reporting obligations since 2015.
Filing deadline reminder:
Standard ACA filing deadlines apply for Tax Year 2017. There are no automatic extensions for late filing.
1095-C/1094-C paper filing                     February 28th, 2018
Employee 1095-C copies                        March 2nd, 2018
1095-C/1094-C electronic filing               March 31st, 2018
For more information contact your Passport Account Manager.  Learn more about our ACA Reporting Software or contact us  – We are here to help.
---