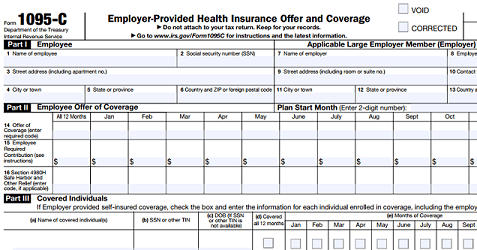 ---
---
Employer Mandates: Affordable Care Act Reporting
Hello again,
This post is for Applicable Large Employers (ALEs) required to comply with the Affordable Care Act. We hope you find it helpful.
Sourced from  SHRM:
"During the past year, Congress failed to repeal the mandate that employers with 50 or more full-time or equivalent employees provide access to ACA-compliant plans.
However, the consequences of the successful repeal of penalties on employees who don't obtain ACA-compliant insurance is 'something to monitor,' said Chatrane Birbal, senior advisor for government relations at SHRM.
While large employers must offer coverage to full-time workers, employees now have less reason to accept it.
At the same time, 'employers are still struggling with the cost and burden of annual ACA reporting,' said attorney and health care specialist Heather Meade commented.
The SHRM-supported Commonsense Reporting Act, introduced with bipartisan support in both the House and Senate, would reduce the amount of paperwork employers must deal with.
For instance, instead of filing reporting statements with the IRS for the entire workforce, an employer would need to file statements only for those employees who purchased coverage through a public ACA Marketplace exchange, which then notified the employer about the purchase.
While the measure would 'streamline, and not eliminate, employer reporting obligations,' Meade said, 'it would address several of the top concerns employers have expressed about the reporting process.'
Efforts to go further and eliminate the employer mandate could increase as more organizations receive notification from the department of Health and Human Services and are fined for not meeting federal standards for adequate, affordable coverage, Birbal said.
Since last October, she explained, the IRS 'has notified thousands of businesses that they owe money or need to provide additional documentation that they offered adequate coverage in 2015, when the employer mandate took effect.'
With penalties for individuals who lack health coverage already reduced to zero, efforts are gathering steam to delay the employer mandate penalty for a few years, Birbal noted.
Whether those efforts are ultimately successful, however, may depend on political developments, which are as yet unknown."
ACA compliance and reporting are still mandatory.  Learn more about our ACA Reporting Software.
Passport Software also provides ACA Full-Service.  Contact Us – We are here to help.
---