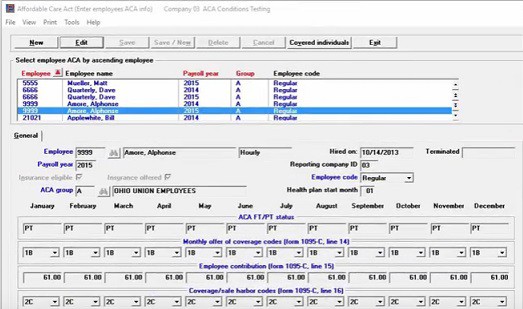 ---
---
Passport Software's Affordable Care Act Compliance Software
Hello again,
This post is for Applicable Large Employers (ALEs) required to comply with the Affordable Care Act. We hope you find it helpful.
Many of our clients tell us that Affordable Care Act compliance and reporting had been a painful process in the past. We provide a solution to help ease the burden of tracking and compliance.
Passport Software's ACA compliance software monitors compliance throughout the year and provides much more than just year-end forms reporting.
Our software is easy to use and provides comprehensive reports that include employee status notifications and alerts when offerings of coverage are needed.
It also reports whether your offers of coverage are affordable and monitors employee contributions.
Easily import employee data and generate ACA employee records quickly.  Our IRS-approved ACA compliance software can provide automated electronic filing, and we are also IRS-approved to file on your behalf via proxy submission.
Our desktop software saves money (compared to a hosted service) with a one-time licensing fee and a nominal charge for updates which keep our solution in compliance with any future changes made to the ACA.
Our knowledgeable customer service can help you through the process, and we even offer ACA Full-service reporting –  just provide an employee spreadsheet, and we do the rest.
Passport Software's ACA compliance software automates population of the 1095-C form and drastically reduces manual effort and reduces errors. You can select any IRS look-back method (monthly measurement period).
Our software is able to generate and print 1094-C/1095-Cs. We also electronically file for companies with more than 250 employees.
Learn more about how our ACA Compliance Software can reduce the effort of tracking and compliance.  Or Contact Us – We are here to help.
---